SiteIndexer
---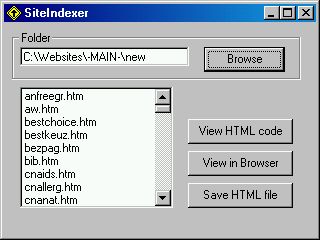 Wat doet dit programma? What does this program do?
Een klein programma om een overzichts- of startpagina te maken van een set van HTML bestanden. Het neemt de titel van elk bestand en maakt een lijst van de bestanden.
A little program to create a index.htm file (entrypoint) for your set of HTML files. It takes the title of each page and creates a list of all of the present files.
Hoe werkt het? How does it work?
Browse
Kies de map waarin de bestanden zitten. Het programma onthoudt deze map.
Choose the folder where the set of HTML files reside. The program keeps track of this folder.
Create
Maak het overzicht.
Create the entrypoint or index.
View HTML code
Als het overzicht gemaakt is, kan je de HTML code van dat overzicht bekijken. Je kan die HTML code kopiëren en plakken in gelijk welke HTML editor.
After creating the index, you can view the HTML code of the index. That HTML code can be pasted into any HTML editor.
View in browser
Toon een voorbeeld van hoe dat overzicht zou kunnen zijn.
Shows a preview of the created index.
Save HTML file
Sla het bestand op. De gebruiker bepaalt de titel van het bestand, de naam en de plaats waar het wordt opgeslagen. Bij verstek wordt het bestand in dezelfde map opgeslagen. Bij opslaan in een andere map, worden de adressen nietaangepast.
Saves the created file. The user enters the title for the file, the name and the folder where the file is saved. By default, the file is saved in the same folder. When saving in another folder, the addresses are not modified.
Create XML code
Maak XML items vooor gebruik in een RSS feed. Geef de titel vande RSS feed en het adres van de site, en je bent vertrokken.
Creates XML items to be used in a RSS feed. Give the title of the RSS feed and the address of the site, and off you go.
View XML code
Kopieer de XML code, zodat ze in de RSS kan geplakt worden.
Copies the XML code in order to be pasted into the RSS feed.
Systeemvereisten / System Requirements
Versieoverzicht / Version history
v1.1: je kan nu het HTML bestand opslaan.
v1.2: je kan items maken voor gebruik in een RSS feed.
v1.3: betere RSS support.
Licentie / Licence
Freeware
Waarvoor dient het? What is all this about?
Om snel een index te maken voor een set van HTML pagina's. Dat is met name nuttig voor een reeks oefeningen aangemaakt in een programma als HotPotatoes.
To create an index for a set of HTML Pages created by another program, such as HotPotatoes.
Ik gebruik het voor het bijhouden van What's new? Alle bestanden gewijzigd sinds de laatste update worden gekopieerd naar een aparte map, ik maak een index van die map en kan de lijst van laatst gewijzigde bestanden zonder meer opslaan.
I created it to produce What's new? All files changed since the latest update are copied into one folder. I make an index of that folder and can save my What's new file.
[OK, download!!]
---